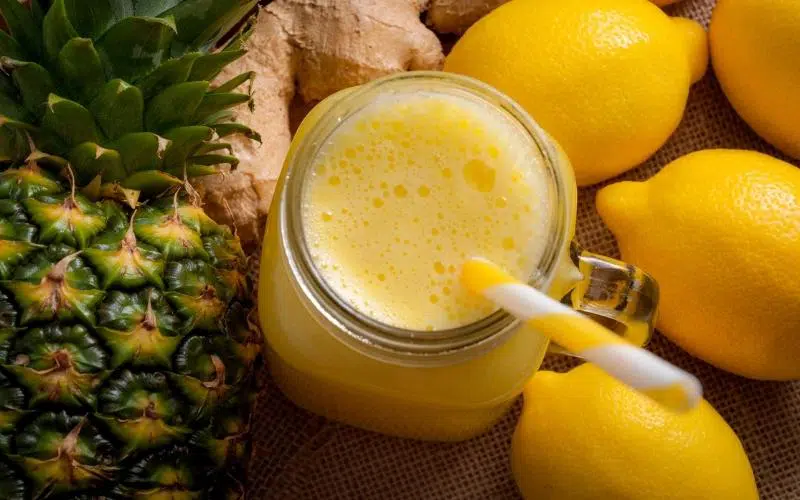 The Best 7 Recipes With Natural Pineapple
Refreshing, light, and healthy, this fruit offers endless options in the kitchen. In addition, it facilitates digestion, stimulates the liver, and strengthens our defenses. We propose 7 dishes for you to get all the juice out of the pineapple. 
Although it is a tropical fruit, pineapple has become part of our gastronomy. To its refreshing and juicy flavor is added its exotic aroma and its versatility. Not only can we take it alone, as a dessert or snack, but it can be one more ingredient in a meal, an accompaniment, or the protagonist of a cocktail.
It is important to know if you are in the perfect spot. To do this, if you pull one of the central leaves and it comes out easily, the pineapple is at the right time to be consumed. On the other hand, if the lower part oozes or smells quite fermented, it is past.
As for its maintenance, keep it in a cool and dry place. Once cut, you can store it in the fridge (wrapped in plastic), although you should consume it as soon as possible.
Properties and benefits of natural pineapple
Pineapple (or pineapple) is a satiating fruit, low in calories and high in fiber, vitamins, and minerals.
Loaded with nutrients. Just 1 cup (165 g) contains 83 kcal, 1 g protein, 2.3 g fiber, 88% of the daily value for vitamin C, plus manganese, vitamin B6, copper, and potassium. 
Helps fight diseases. They have a large number of antioxidants. These molecules help prevent oxidative stress, which can cause heart disease, diabetes, or cancer.
Facilitates digestion. Contains digestive enzymes (bromelain) that help in the digestion of meat. In addition, they are a good source of fiber, which promotes digestive health.
It could prevent cancer. The University of Lodz (Poland) pointed out that pineapple bromelain could reduce the risk of cancer, by minimizing oxidative stress and inflammation. 
It can boost immunity. The University of Siena concluded that people with chronic sinusitis who took a 500mg bromelain supplement recovered faster.
 It can relieve arthritis. The anti-inflammatory properties of bromelain can relieve pain for people with inflammatory arthritis and protect against cartilage breakdown. 
Speed ​​up recovery. It can reduce the time it takes to recover from surgery or exercise. And is that bromelain helps reduce inflammation, swelling, and pain. 
Top 7 natural pineapple recipes
Stuffed pineapple. Hollow out a small of the fruit and chop the pulp. Mix it with 5 cooked and peeled prawns, 50 g of boiled rice, a few cubes of cucumber and avocado, and a tablespoon of mayonnaise. Fill it with the mixture and decorate it with lime and chives. Easy, fast, and healthy.
Meat and pineapple skewers. Dice a sirloin steak, 1/2 pineapple, and 1/2 apple. Mix in a bowl and add a dash of lemon juice, white wine, and olive oil. Season with salt and pepper and macerate for 20 minutes. Assemble the skewers, grill, and serve.
Sirloin steak with pineapple. Cut 1/2 pineapple into slices and salt and pepper a sirloin steak. Brown them in a pan for 5 minutes. Then, place them in the oven for 10 minutes at 180 degrees. Serve by placing the pineapple on the base, sprinkle with the remaining sauce from the pan and decorate with rosemary.
Pineapple millefeuille. Cut a small of the fruit into slices. Beat in the mascarpone with cream and sugar and place the dough in a pastry bag. Heat a little sugar with rum in a pan and add the pineapple so that it is caramelized. Assemble the mille-feuille alternating our fruit and cream.
Rice salad with pineapple, chicken, and vegetables. Cut a chicken breast into strips and grill until crispy. Add a cup of boiled rice, a slice of chopped pineapple, and four strips of roasted pepper to a bowl. Season with olive oil.
Mini pineapple cupcakes. Mix four tablespoons of sugar, a piece of butter, an egg, milk, flour, yeast, and 1/2 chopped pineapple in a bowl. Bake for about 25 minutes at 160 degrees. Finally, cover the base with melted chocolate and decorate it with coconut.
Pineapple cups. Cut 1/2 of our fruit into circles, sprinkle sugar on top, and brown in a pan until caramelized. Mix two egg yolks, a little sugar, and a pinch of cornstarch in a bowl. Add milk flavored with lemon and cinnamon, and cook. Fill the cups and toast them.
As you can see, pineapple is a digestive, purifying, and very healthy fruit that combines sweet and salty. Incorporate it into your menus, and you will gain in flavor and well-being.